SimpleQL: Data analysis for the people!!!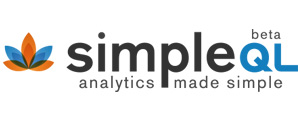 SimpleQL is an analytics solution designed from the ground up to dramatically increase the insights that enterprises are able to derive from their data. The SimpleQL search box, supported by its guided natural language and predictive query engine algorithms, makes data personalization a reality for the first time. SimpleQL is democratizing business intelligence by delivering ubiquitous, self-service, query based analytics to the masses.
Scot Gensler, Co-Founder of SimpleQL
By employing guided natural language search, predictive query suggestions, dash-boarding and visualization, SimpleQL is the first solution to make true data analysis power accessible to everyone within an organization. The company was part of the Israeli-American accelerator UpWest Labs' 6th class of graduates and is based in San Francisco and Tel Aviv.